Yeonhee Sun
The Prince's Trust (UK)
Over the next few months, BALID will host a series of blogs exploring the role of informal learning and literacies in young people's everyday lives. The series hopes to feature young people's work and ideas, inspire intergenerational conversation and become the basis for future action / research in these areas. Learn more about the series here and how you can contribute. More blogs in the series can be found here.
Yeonhee Sun of The Prince's Trust (UK) pens this inspiring piece on the role of young people in peace building in Rwanda. In conversation with three youth peacebuilders, Yeonhee unpacks the various learning spaces and practices of young people to promote peace and build a more harmonious society.
---
The importance of young people
Young people have played an essential part in promoting a story that supports peace, reconciliation, and social healing in Rwanda since the 1994 genocide. Therefore, the role of young people as peacebuilders in the present and the future in their society's recovery from conflict is critical. In 2014, while working as a project assistant in Rwanda's eastern province, I became curious about how young people develop and maintain relationships and solidarity with neighbours who might have played a role in perpetrating the genocide. I was also interested in whether and how they can build peace through literacy learning. Recently, I had the opportunity to be in conversation with three youth peacebuilders in Rwanda to explore questions such as:
What kind of learning occurs when people engage in their daily activities online and offline at home, school, and in the community (Government, NGOs, church, groups, Individuals)?
How do young people use texts, words, and other forms of literacies in their everyday lives and in engaging with peacebuilding?
What kind of knowledge or skills do young people improve and value through peacebuilding activities or programmes?
The young people (pseudonyms have been used in this article) were aged between 25 and 30 and they currently work as peacebuilders for local NGOs and study peacebuilding at university. I found them through LinkedIn by searching for peacebuilders in Rwanda. They all share a common goal of promoting peace in Rwanda. Two of them are Rwandans: Mahoro is a founder of a local NGO and Bosco is an Executive Director of a local NGO in Rwanda. Gatete is a South Sudanese who recently trained Rwandan university students on transforming power and conflict resolution communication in Huye, Rwanda's southern province. Gatete is currently pursuing a master's degree in international studies, specifically Peace and Conflict Studies, at university in East Asia. 
Peacebuilding Learnings and forms of literacies 
Different kinds of formal and informal learning for peacebuilding occur in person and online in Rwanda. Mahoro and Gatete said that the media is the main source of learning because it communicates about peacebuilding. Some young people also use different channels like newspapers and television. Also, many people in remote areas have limited resources so they have to turn to more traditional forms of media like radio. Mahoro addressed that 'young people learn more through online platforms like YouTube, social media, and websites. Additionally, not many people read books, but many people learn a lot through storytelling in their community. Young and old generations are learning through their conversation in their area, whether through their local government offices, local meetings, school, restaurants, or markets'.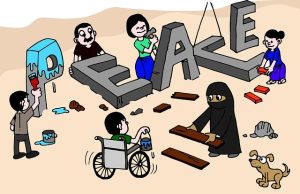 Mahoro asserted 'home learning is important for peacebuilding because young people can listen to history and their individuals' experience and stories in the past from their grandparents and parents during the genocide. These conversations are easier to have between families. For instance, there is no judgement whether they are Hutu or Tutsi, when you see their appearance. We should know "Ndi Umunyarwanda!" (I am a Rwandan) and we should respect others and embrace "Turi Abanyarwanda" (we are Rwandans). Therefore, it is helpful to make a relationship with their peers and neighbours and think with a more positive perspective post-genocide'. His examples show that young people are informally learning national identity, respect, tolerance and a positive mindset.
In addition, Bosco said that sometimes the government invites guest speakers (local leaders and genocide survivors) to promote peace among Rwandan citizens. They talk about their experience and why peacebuilding is important to communities in their daily. Bosco mentioned that 'I have lots of experience in high schools when I was a student as a survivor. I visited memorials with students to learn about our history and then we discussed how we can be together and how we can protect our country and our future as far as peace is concerned'.
Mahoro and Bosco responded that as citizens of the new generations, this younger generation thinks Facebook and Instagram are important to communicate what they feel or what message they want to convey to people in the commemoration period. Rather than giving speeches, they prefer to share their message through social media, addressing a larger audience through their Twitter or Facebook accounts. Additionally, they use Instagram to share their thoughts on peace through visual content. For example, The Rwandan government posted one image of fire with "Kwibuka 29" (Kwibuka is a Kinyarwanda word that means "To Remember" and 29 is that the 7th of April marks the 29th anniversary of the 1994 genocide against the Tutsi in Rwanda. The Flame of Remembrance symbolises the courage and resilience of Rwandans over the last 29 years.) Also, media shared quotes about the genocide, from the President or from Rwandan celebrities, on Twitter, Instagram and Facebook. Young people shared trending media and tagged "Kwibuka 29".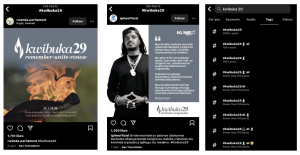 However, Mahoro asserted that 'some people can't use smartphones or computers due to lack of equipment and digital skill. Therefore, they never use the Internet. They use their voice to talk about their ideas, thoughts and feelings of peace in person and also, they share flyers or brochure with text'. According to them, young people utilise different forms of literacy in various locations to share their ideas about peace and conflict.
Valuable knowledge and skills for peacebuilding
Everyone addressed that young people should know about their history and culture in Rwanda so, they should keep learning and listening to others. Therefore, they think that literacy skills (Reading, Writing, listening, and speaking) are the most important to access lots of information. They agreed that people should go to school for education when they are younger. Especially, young people use their computers or smartphones, so IT skills are crucial to get information and different perspectives about issues.
Mahoro and Bosco trained young people to improve their literacy and digital skills through their projects. Through the project, they were also exposed to different genocides in other countries, took online courses about peacebuilding, and shared their ideas with others by posting or discussing issues on the communication channels. As a result, they can see political leaders and elders through a different lens with the aid of critical thinking. Mahoro said that 'I support youth to read books through my project in rural areas and we provide them with some stories. They learn how to communicate with others and make relationships and also, they can speak to others and share with us. This is important to know what they want to do or what kind of people they are. Peacebuilding is important to engage people, grow a positive mindset of living and a more inclusive society where we can live without harm'.
Gatete asserted that 'the more informed young people are the more they have the capacity to inform others. Young people who are not well informed about the situation, the less likely they are to make a difference in their local communities. One ingredient of conflict in Africa is that some young people are non-literate and therefore, don't have the capacity to access other ideologies and investigate information for themselves'.
He also mentioned about communication skill by sharing his peacebuilding programme. Providing basic concepts on how communication can also cause conflict, therefore young people learn how other people can communicate effectively through things (For example, I-messages instead of You-messages, transforming power, and the violence and the non-violence tree).
You-messages (suggesting blame and encouraging the recipient to deny wrong-doing or to blame back) can cause conflict so this programme encourages the I-messages (simply state a problem, without blaming someone for it) in terms of communication and to ensure that the learners will be able to use nonviolent ways of communication to reduce conflict. His programme includes a key element called "transforming power," which serves as the foundation of their alternative violence approach. This approach is based on the belief that everyone possesses an innate power, and that by tapping into this power, individuals are able to resolve conflicts in an effective way. This power can be expressed in a variety of ways, including humour, and can be used to transform difficult situations into positive outcomes. He asked young people to create two trees: one for violence and one for nonviolence. The violence tree shows the effects and consequences of violence, while the nonviolence tree explores the elements and impacts of nonviolence. By comparing the two, learners can better understand the concepts and why violence should be avoided, and how nonviolence can be used instead. This helps them reflect on the history of violence and consider nonviolent solutions.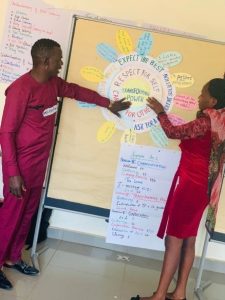 One of his main priorities was promoting civic education, which is considered essential for achieving stability and peace in any society. Investing in young people through knowledge and skills transfer, both transferable and soft, can help them become agents of positive change. This includes not only knowledge of peacebuilding, but also entrepreneurship, which can create more employment opportunities for young people. Therefore, engaging them through conferences and training programs can be an effective way of changing their lives and making them feel valued by involving them in organisations that work towards change. As the majority of society can be made up of young people, investing in their development can go back to their district and lead to a better future for all.
Closing Reflections
I had a wonderful experience having a conversation with young people in Rwanda who are dedicated to promoting peace in their communities. I was impressed by their journey of learning from others through projects, and now they are leading local NGOs and training other young people in peacebuilding. Despite their different backgrounds, they all share a strong desire to create a more peaceful world and recognise the important role that young people play in shaping their country's future.
I would like to have a group discussion with more young people or people who attended the same or similar peacebuilding programmes because I am excited to see different aspects of issues. Additionally, I would like to engage with women next time because I found only men participants through social media. I am sure that if I worked with women, I could discover different learnings, valuable knowledge, skills or forms of literacies on peacebuilding. I am sharing this blog to demonstrate that Rwandan young people are currently contributing to a peaceful atmosphere and every day they engage in different forms of literacy to promote peacebuilding in various areas of the country.
---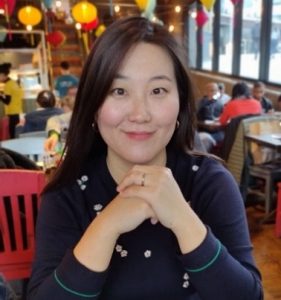 Yeonhee Sun is currently working as Youth Development Lead at The Prince's Trust in the West Midlands, United Kingdom. She completed her MA in Education and Development from the University of East Anglia and has been involved in Rwandan adult literacy education through the Bridge Africa Project from the Korean National Commission for UNESCO. She also coordinated educational programmes with volunteers in Rwanda. Email: Yeonheesun1@gmail.com; Twitter: Yeonhee_Sun