Michael Agyemang
Programme Support Officer at Feed the Minds
Around the world, over 750 million adults cannot read and write, and two thirds of those are women. Literacy skills are quite separate from intelligence or hard work. They are mostly centred on whether people have opportunities or not. Often, people with no literacy skills live in poverty. They are also often people who have been marginalised within already marginalised communities.
At Feed the Minds, we see education as key to tackling poverty, improving health and building brighter futures. Our focus on education and literacy is not just about learning how to read, write and count – although this is an important aspect of all our projects as it facilitates further education. For us, our adult education projects enable women and people who have been marginalised to gain the resources they need to lead a healthy and fulfilled life. Through our projects, people are able to learn practical and vocational skills to increase their income; they are able to learn about human and civic rights so that they can better protect themselves from discrimination; and learn life-saving health information so they can take better care of themselves and their family. These are the sorts of positive, domino effects that our education projects inspire.
Femmes et Education des Adultes, Democratic Republic of Congo
Here is one example of an inspirational and life-changing project we delivered in the Democratic Republic of Congo. From 2015 – 2018, Feed the Minds collaborated with our local partner organisation, Femmes et Education des Adultes (FEDA) in South Kivu, near Lake Tanganyika and the border with Burundi. This was an educational project to enable women in very hard-to-reach and conflict-affected regions to access literacy classes and vocational skills in soap production in safety.
South Kivu is characterised by armed conflict and deep-rooted gender inequality. The United Nations Organization Stabilization Mission (MONUSCO) documented 1,049 cases of conflict-related sexual violence against women and girls in 2018 alone. Most of the incidents recorded were of women and girls being targeted while walking to school or collecting firewood or water.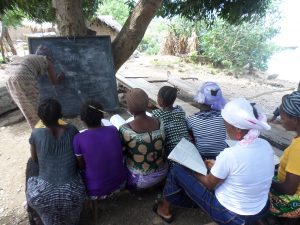 To help improve the quality of life for women and girls at risk, Feed the Minds and FEDA used a home-setting to deliver literacy classes for 700 women. These Home-Based Literacy Centres provided a safe space for women to improve their literacy skills, health awareness and knowledge of their rights. To support their smooth running, FEDA worked with the community to elect 90 women to become literacy training facilitators. The 90 women were provided with training in adult literacy learning techniques and then supported to set up Home-Based Literacy Centres in their villages, which were attended on average by seven women who met three times a week for four months. Soap-making training was also integrated with the literacy classes to ensure women could apply their literacy skills to improve their income. The soap-making training provided financial support to 210 of the participating women who were identified as needing the training most. Six soap-making cooperatives were also set up to ensure participants could continue their businesses after the project concluded. Profits earned from the soap production enabled women to earn their own income and contribute to, making it more possible to buy school materials for their children, send their children to school and keep their children well fed.
Over the course of three years, our project supported women to become healthier, earn a higher income and exercise greater decision-making at community level. Our Home-Based Literacy Centres improved the literacy skills of 700 women by at least three levels e.g., from writing words, to sentences, to paragraphs. Additionally, 239 learners and facilitators became skilled in literacy and reported that the literacy education had provided them with self-esteem and self-determination to participate in civic processes such as self-representation at community meetings. Our project also led to the creation of six worker-owned cooperatives producing quality soaps for sale in their villages. It will be worth to also mention that 2018 was a challenging year in South Kivu. Parts of South Kivu became occupied by rebel forces leading to localised clashes. Affected communities fled to neighbouring countries for protection, including many of our project participants. During the clashes, our soap making materials were looted by rebel forces. We suspended project activities until relative security had been restored. Once it became safe to restart, we fundraised to cover the costs of replacing looted soap-making materials. We also conducted sensitisation and mobilisation sessions to recruit for the soap-making training and ensure the effective functioning of cooperatives.
Sudan Evangelical Mission, South Sudan
Our most recent project in South Sudan, which was awarded a UK Aid Direct grant to directly respond to the impact of COVID-19 in South Sudan, is also an inspirational and life-changing project. It is another example showing how all our projects support people with no or low literacy. This project is responding to the economic shock in market prices caused by Covid-19 which is likely to exacerbate food insecurity at a time when household stocks have generally been exhausted. Increased food prices as well as a reduction in income has led to people eating cheaper and less nutritious foods.
We are working with our local partner, Sudan Evangelical Mission (SEM), to deliver emergency food packages and short-term duration crop seeds to 1,500 people living with disabilities, as well as pregnant or lactating mothers and women-led households. Usually, our agriculture training projects will work extensively with farmers on demonstration plots. However, to reduce the risk of COVID-19 infections on this project, we have limited farm training on demonstration plots to only three days and implemented safety measures such as social distancing and handwashing.
These key cards provide pictorial images and simple written statements in the local language (Moru), with clear step-by-step instructions on farming. They have been designed to help farmers with low literacy to self-learn how to manage their crops safely from home. Futhermore, they are vital resources to help farmers recall crop management techniques learnt at the demonstration plots. They provide instructions on preparation and planting, crop management and harvesting and crop diseases to aid farmers in their own remote learning. This is an important tool that will support vulnerable groups with low literacy in accessing more nutritious diet.
Reflections
Both of these projects highlight that literacy is at the heart of our work; it guides all our projects. When designing a project, we determine whether it includes a specific literacy component and whether it is literacy aware. We have a robust Literacy Guide that provides us with strategies for both types of projects. For example, when we work on a project that suggests low literacy levels could have a negative effect on project outcomes, we include a literacy component. This means incorporating activities in the project designed to improve literacy levels. For projects that are literacy aware, we take into account low levels of literacy when designing and implementing activities to ensure no participants are excluded or marginalised.
At Feed the Minds, we believe literacy is an important toolbox to lead to positive change. Our focus on practical education and literacy supports women and groups who have been marginalised; we thus support people who often missed out on school or training opportunities due to extreme poverty, conflict or gender discrimination. Through our projects, people can learn new skills to earn more, increase their knowledge to lead healthier lives and improve their confidence to stand up for their rights.
Feed the Minds is a UK based international development charity with 50 years of experience delivering education projects in rural and marginalised communities. We enable people to gain skills and knowledge so they can have a new start.
For the project mentioned in this blog, Feed the Minds was awarded a UK Aid Direct grant to directly respond to the impact of COVID- 19 in South Sudan.