Chris Millora and Katy Newell-Jones
In the next few weeks, BALID and the UNESCO Chair in Adult Literacy and Learning for Social Transformation will bring you a series of blog conversations following up on the discussions at the 4th Brian Street Memorial Event on the theme 'decolonising literacy'. Taking 'decolonising literacy' as our starting point, we will explore and extend some of the questions raised by Brian Street around power, voice, identity and literacy: 'Where are people going if they take on one literacy rather than another literacy? How do you challenge the dominant conceptions of literacy?'
 In this introductory blog, Chris Millora and Katy Newell-Jones summarise key insights from the presentations and discussions during the 4th Brian Street Memorial event which inspired this series.
 —–
On 18th November 2020 the British Association for Literacy in Development (BALID) and the UNESCO Chair in Adult Literacy and Learning for Social Transformation co-hosted the 4th Brian Street Memorial Event exploring the theme Decolonising Literacy. In this event, academics, policy-makers and practitioners gathered to engage in a conversation on decolonising literacy research, teaching and practice. Over 100 people participated from 26 countries (33% Europe, 29% North America, 14% Asia, 13% South America, 10% Africa). Two thirds were academics, with the remainder from NGOs (29%) and Government departments (5%).
Participants were encouraged to be actively engaged throughout the event, initially posting their hopes to the group through Mentimeter which demonstrated the diverse experiences and background of participants and the wealth of knowledge they brought to the debate.
Literacy, power and inequalities: inspiration from Brian Street's work
Anna Robinson-Pant, UEA UNESCO Chairholder, opened the event by drawing from significant works of Brian Street that make visible issues of power and voice within/through literacies. Maria Lúcia (Lalu) Castanheira followed with a brief reflection on Brian's earlier work – The Savage in Literature – and how this shaped his influential writings around literacies, culture and inequality. Listening to Anna and Lalu, we were struck at how decoloniality is deeply embedded in Brian's writing and thought.
Research and experience tell us that literacy has been dominantly framed as an inescapable prerequisite for individuals and communities to develop, progress and modernise. Resources and policy responses, often coming from and modelled on approaches in countries of the Global North, have therefore been dedicated to the 'literacy challenge' in the Global South. Yet Brian Street's pioneering work on literacy as a social practice illuminates how this transfer of literacy is not only a straightforward and politically neutral transmission of reading and writing skills but it is rather a series of complex social processes that are always involved in relations of power. From his perspective, "literacy can be seen as ideological: it always involves contests over meanings,, definitions, boundaries, and control of the literacy agenda"
Challenging dominant views of literacy: insights from Malawi, India and Sweden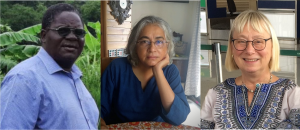 After Anna and Lalu, three keynote speakers reflected on and extended some of Brian's ideas in the context of their work. Ahmmardhouh Mjaya (University of Malawi) found Brian's work useful for his study on adult learning in a rural town in Malawi. Through his ethnographic study, Ahmmardouh saw the disparity between what the National Adult Learning Programme (NALP) of Malawi emphasises compared to what some of the learners wanted to learn – for instance, signing their name or learning to welcome guests in English to help their business. Ahmmardouh quotes Brian saying that researchers need to "suspend judgement as to what constitutes literacy to the people they are working with until they understand what literacy means to the people themselves."
For her presentation, Malini Ghose (Nirantar, India) reflected on the limits of the literacy-illiteracy binary that is often common in development programmes on adult literacy, especially those targeting women. After sharing findings from their LETTER action-research project with Brian, Malini shared that "Literacy was always a matter of power but it was also always shifting. Therefore, even if they had learnt literacy skills and teaching those were important but equally important was to teach how the relationship between literacy and empowerment could be negotiated."
Hélène Boëthius (founder of Adult Learning and Empowerment Facilitators (ALEF). Reflecting on her experience as a development worker, she noted the popularity of 'top-down' approaches in developing adult literacy materials. She explained, "it must be possible to design adult literacy courses based on the assumption that the adult learners are the experts of their own lives; that they don't need to be told what to do, or seen as ignorant and incapable". This thought has inspired her in developing their own approaches to literacy at ALEF where the adult learners are at the centre of the design of literacy materials.
Moving discussions forward…
Two quick fire responses followed from Parviz Hasrati (Seneca College, Canada and former PhD student of Brian Street) and Mohammad Yasin Samim (Ministry of Education, Afghanistan) reflecting on the presentations and also on how to move discussions forward from the academic and policy perspective. Parviz, for instance, commented "it seems that the domination of policy holders has superseded the practitioners' training to reveal hidden literacy ideologies defined and imposed by policy holders. I assume this is where Brian's work on literacy could be extended to enlighten not only the masses and practitioners but also policy holders and government officials"
Following the inspiring presentations and responses, participants shared their own experiences and perceptions of the need for decolonising literacy in diverse breakout rooms, using Jamboard. Some of the insights from the group include:
Questioning how much agency learners can have when the focus is on technical aspects and exams in a formal system
Recognising the additional challenges posed by language
The importance of recognising the expertise of the community as well as learners – perhaps more of a community voice than an individual voice
Need to look at the whole structure, at macro- and micro levels and for practitioners to be at the front line to make the changes
In terms of actions moving forward, they shared:
Starting where people are, what do learners want from text, from literacy
Recognising who are learners and what are the different communicative repertoires they access
Adopting an ASSET model rather than a DEFICIT model; avoiding binary divides
Engaging literacy learners and their communities in the planning processes
Engaging in dialogue and interaction – in appropriate languages – breaking down to the district and village level to listen to the learners and facilitators (and the community)
Recognising the place of language and the associated power dynamics – consider translanguaging pedagogies
Moving away from assumptions about the 'medium of instruction' and being more flexible about language
This blog is the beginning of a set of further blog conversations exploring the complex theme of decolonising literacy. We invite you to discuss with us, give feedback, share experiences and ask more critical questions! 'See' you on the next one!
In the next blog…
Anna and Lalu share with us their fascinating conversation about Brian's work and how they continue to be relevant to their work today