Arianna Berardi
Musician and music therapist working for Nordoff Robbins
Over the next few months, BALID will bring you a series of blog conversations following BALID's last interactive Informal Literacy Discussion (ILD) on the theme of 'applying visual and sensory literacies in refugee research and practice'. Taking some definitions of visual and sensory literacies as a starting point, the blog series will look at further examples of its use in research, teaching, and arts practice, as well as raising important considerations around ethics, voice, and agency.
The first post in this series could be accessed here. The second post is available here.
——
This blog follows my participation in BALID's Informal Literacy Discussion (ILD) on 'Using Visual and Sensory Literacies in Refugee Research and Practice'. In the ILD I talked about my sessions at a community refugee organisation where I have been working since October 2021. In this blog I share in more depth the nature of my music wellness sessions and reflect on the way in which these sensory practices support the building of community, belonging, and identity.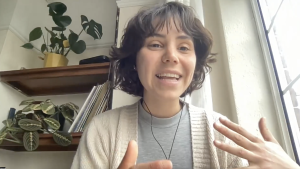 The music wellness sessions at the community and refugee organisation have now been running for seven months, and they have taken different forms and shapes: depending on the attendees, the type of music, and the various group dynamics. For example, this could include 1:1 sessions or larger open group sessions. At this particular setting, I work with people seeking asylum as well as people who are local to the area and I strive to create a safe and open space for all.
Most of the sessions at the refugee organisation have been in the format of an open group, which allows people to join and leave without a strict schedule, and this often creates a sense of flow and freedom in the group. More often than not, most attendees end up staying for most of the session.
These sessions aim to foster connections amongst participants and support the creation of a musical community where participants can share music from their own culture and background as well as learn new music. This process creates a unique sense of togetherness based on the rich and varied cultural and social experiences that everyone brings to the group: ultimately cultivating cross-cultural collaboration through music.
In the open group sessions, I encourage participants to experiment with playing various instruments, and participants are also given the opportunity to facilitate and lead musical interactions and activities. This supports a sense of shared agency and co-creation of musical material and the co-creation of a space where people can feel heard and acknowledged musically. Often, participants have commented on how empowering it has felt to be able to teach the group a song from their culture, and to hear and see everyone else being really interested and curious to learn. In this context, music allows the building and co-creating of a community that thrives because of its diversity, which can be a powerful message in a society that consistently aims to divide and separate people based on cultural, religious and socio-economic differences.
In this particular musical community, participants have also been able to re-shape and re-appraise their cultural and musical identity in a different context and under a different light. By playing, singing and re-creating songs from their cultural backgrounds, participants have, to various extents, re-shaped and re-defined their identity in connection to other participants' identities. Through this process they have negotiated a broader, inclusive group identity which encompasses the nuanced and multi-faceted nature of the group.
Through the musical practices we have been engaging in in the sessions, participants have explored building a unique sense of belonging to the group: that is a belonging which is not merely the sum of each individual identity, but rather a communal identity which is fluid and constantly being shaped and redefined by those who are part of it.
I look forward to seeing how the sessions keep evolving and taking different shapes and meanings.
—
Arianna Berardi. I am a musician and music therapist working for Nordoff Robbins, the largest independent music therapy charity in the UK. I have a background in Psychology and in the performing arts, and I began working as a music therapist in 2021. I am currently working in a variety of settings including special needs education, adult mental health, and refugee organisations.