Gina Lontoc, Camilla Vizconde and Belinda de Castro
University of Santo Tomas, Philippines
The family literacy research team of the University of Santo Tomas (UST), Philippines is exploring the role of local and indigenous knowledge systems in promoting family literacy and lifelong learning. This project is part of the Global Research Translation Award (GRTA) project which investigates how family literacy can build on indigenous learning in order to contribute to the United Nations Sustainable Development Goals (SDGs). This is based on participatory action-oriented research on family literacy and indigenous learning in the four partner countries (Ethiopia, Nepal, Philippines, Malawi) of the UNESCO Chair in Adult Literacy and Learning for Social Transformation.
Pinili, in the city of San Jose, Nueva Ecija province, is one of the focus areas of this project. In this rural community, literacy is an important part of their everyday livelihood practices. When our team visited the houses of women farmers, we observed that participants' engagement with written texts is driven by what is useful for them in terms of daily survival of their families and their participation in community activities. We expected that a lot of these texts would be coming from their main livelihood – farming.
Being in the so-called 'rice granary' of the country, we expected to see how participants utilised written information to enhance their farming technology, to increase their farm production, and to market their farm produce. However, there seemed to be a lack of availability of texts where they could access information that concerns their livelihoods.
Ate Zoria, for instance, when we visited her, was busy sorting out documents as part of her role as parent leader in the barangay (village). She keeps records of members and papers of the association. Her activities revolve around three aspects – association work, learning support for her grandchildren (she acts as their tutor), and agricultural activities with her husband and son.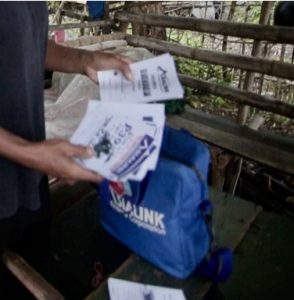 Another farmer, Ate Rosalia, is engaged in backyard gardening, which is the major source of the family's livelihood. Since she lost her husband a year ago, her children have been helping her with planting and selling vegetables such as squash, string beans, gourds and tomatoes. Each time she goes out to sell vegetables, she carries with her a blue bag filled with flyers and brochures. These printed materials are not agriculture-related but promotional texts which she distributes in her new job as an agent for motorcycle loans. The income she earns from sales' commission is of a huge help to her family as she also took the responsibility of raising her grandson who lost his mother (Ate Rosalia's daughter) while giving birth to him.
There are government agencies that provide livelihood trainings to their community. However, we found a scarcity of printed materials that participants could use to supplement their learning. According to one agency, the government spends a lot on the production of printed materials but these papers are just used by people to pack smoked fish. Most of our participants rely on oido or self-taught skills. We learned that intergenerational learning takes place through observation and hands-on participation as members do not document their livelihood practices.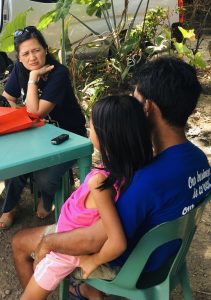 So, is academic or 'school' literacy the key to improving livelihoods? Does it recognise people's traditional practices which might be more relevant in fulfilling their tasks? Or does it devalue people whose existing everyday literacies escape the mainstream livelihood know-how? In the eyes of rural communities, reading leaflets could be considered a waste of time, and information may also be obtained through observation or simple consultation with local experts. Instead of using materials written in an unfamiliar language, they tend to resort to tantyahan practice or the art of rough estimation.
People learn by doing but they could also explore other ways to support and sustain their learning and their everyday application of new knowledge. One way is through mobile devices. Families we visited have access to mobile technology and we have observed that the younger generation, as digital natives, assist their parents in processing digital information. Moreover, community workers could utilize indigenous ways of passing on information which include oral tradition such as storytelling or narratives, songs and performances. People could also build on information shared by elders and key figures in the community. Lastly, instead of using primers or manuals in literacy learning programmes, realia or real objects, texts, and real scenarios can be used. This creates a learning experience which is more interesting and relevant to participants.
The authors:
Belinda de Castro, Ph.D. is a professor at the Graduate School of the University of Santo Tomas and the Director of the Research Center for Social Sciences and Education (RCSSED).
Camilla Vizconde, Ph.D. is the Vice Dean of UST Graduate School and her research interests include digital literacy, teacher education, and language education.
Gina Lontoc, Ph.D. is a faculty member from the Faculty of Arts and Letters , University of Santo Tomas and the Project Lead of UST team for the GRTA funded project on family literacy and indigenous knowledge system.