BALID IS THE British Association for Literacy in Development. Why not become a member of our vibrant community? And please join our Photo Challenge (see sidebar) – you might win £50! 🙂 Our next event is on 22 October, followed by our Brian Street Memorial Lecture and AGM on 18 November 2020. See more details below.
---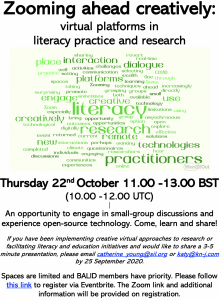 22 October 2020, from 11-13.00 (BST): Katy Newell-Jones and Catherine Young will lead this very participative webinar on ZOOMING AHEAD CREATIVELY: virtual platforms in literacy practice and research. This is a great opportunity to engage in small-group discussions and experience open-source technology. If you have been implementing creative virtual approaches to research or facilitating literacy and education initiatives and would like to share a 3-5 minute presentation, please email katy@kn-j.com or catherine_young@sil.org by 25 September 2020. Come, learn and share  by registering via Eventbrite here. The Zoom link and additional information will be provided on registration.
---
18 November 2020: We are delighted to be co-hosting the 4th Brian Street Memorial Event with the UNESCO Chair at the University of East Anglia. We are in the final throes of arranging the full programme, so please check in again soon. The event will be held by Zoom, starting at 1300 (UK time) and lasting for two hours. It will be followed by our BALID AGM. Please save the time and date!
DO CHECK OUT our new BALID blog with its very interesting contributions. We invite you to submit your own contribution (750 words maximum, with two or three high-res photos) to comms@balid.org.uk or to our incoming chair, Chris Millora at c.millora@uea.ac.uk
---
RECENT NEWS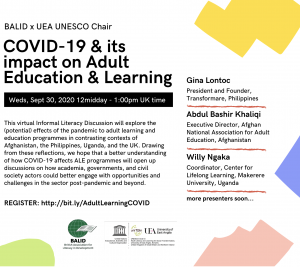 30 September 2020: COVID-19 AND ITS IMPACT ON ADULT LEARNING
This one-hour webinar featured key researchers from The Philippines, Afghanistan and Uganda. Thanks to our UEA partners and the wonders of technology, you can watch a recording of the webinar here. Dr Willy Ngaka, our presenter from Uganda, has very kindly shared a downloadable copy of his presentation. We suggest you'll also enjoy reading our latest BALID blog which addresses similar issues.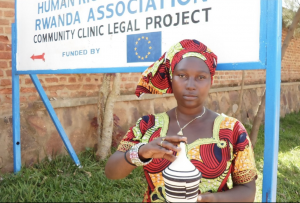 On 6 May 2020, Chris Millora, our incoming chair, hosted a webinar on the theme of Literacy and the Law in Rwanda. Our presenter was Louis Busingye, co-ordinator of Human Rights First Rwanda Association (HRFRA). We are very grateful to the UNESCO Chair at the University of East Anglia, UK, for making the event possible. Thanks too to our respondents Anuprita Shukla, Alice Copping and Alex Mugabo for their part in the success of the webinar, which attracted over 60 participants from all over the world.
---
LITERACY AS SOCIAL PRACTICE conference and BRIAN STREET MEMORIAL LECTURE, 9 December 2019, King's College, London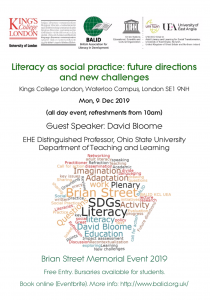 THIS SUCCESSFUL ALL-DAY CONFERENCE included the annual Brian Street Memorial Lecture at King's College, London. Our guest speaker was Professor David Bloome of Ohio State University, and his talk was followed by cameo presentations by current PhD students. As you will see from our report, the day offered a great opportunity for discussion, sharing and networking, and it concluded with calls for action in the context of the SDGs and literacy. To get a flavour of the day, you can also watch this video-recording of David Bloome's presentation, the following Q&A session, and the three afternoon presentations.
---
BALID 2018-19 AGM, 9 December 2019, King's College, London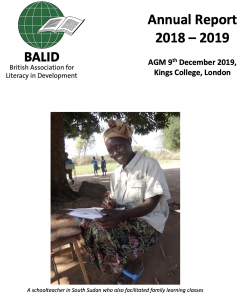 OUR ANNUAL REPORT, which was presented at our AGM, offers great insight into our multifarious activities over the past year – even we on the committee were surprised by the breadth and depth of our work, which is all voluntary.
Our long-standing chair and secretary stood down from their official positions after many years of faithful service, but we are thankful that both will continue on the committee. We are also sad to lose Lorena Sanchez, our dynamic student representative. We have now been joined by five new committee members drawn from a wide spectrum of the 'literacy community', including members from The Philippines, Afghanistan and the UK. You will soon be able to read their profiles on our 'About us' page.
Remember, it's easy to join BALID online.