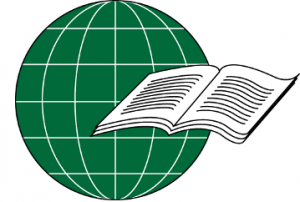 BALID IS THE British Association for Literacy in Development. Please do consider joining our vibrant community of people concerned about literacy.  We're planning a range of events in the coming months, all leading to our Brian Street Memorial Lecture and AGM on 18th November 2020. Make sure you note these dates in your diary – more details will be available shortly.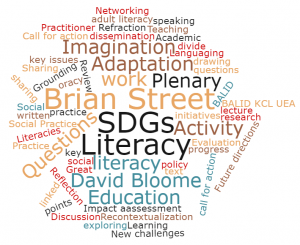 26th August 2020: 

A webinar on the effects of the COVID-19 webinar on Adult Literacy learning. This will be led by Chris Millora of the University of East Anglia.
September 2020: During the month of September, we will join the Twittersphere! This is a chance for you to share on Twitter your images relating to literacy. When we recently invited similar contributions for a conference, people inspired us with literacy activities ranging from maps to the fortune-teller paper-folding game! What images and stories can you share?
19th October 2020: Katy Newell-Jones and Catherine Young will lead a Zoom seminar on Participatory and Interactive Approaches to literacy research.  We hope to involve PhD students especially. If you would like to contribute, please email comms@balid.org.uk
18th November 2020: Hélène Boëthius of Alef will give the Brian Street Memorial Lecture. This will be a virtual, interactive event with break-out groups along a range of themes.
PLEASE CHECK OUT our new BALID blog with its very interesting contributions. We invite you to submit your own contribution (750 words maximum, with two or three high-res photos) to comms@balid.org.uk or to our incoming chair, Chris Millora at c.millora@uea.ac.uk
---
RECENT NEWS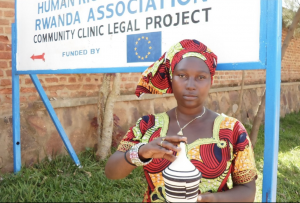 On Wednesday 6th May 2020, Chris Millora, our incoming chair, hosted a webinar on the theme of Literacy and the Law in Rwanda. Our presenter was Louis Busingye, co-ordinator of Human Rights First Rwanda Association (HRFRA). We are very grateful to the UNESCO Chair at the University of East Anglia, UK, for making the event possible. Thanks too to our respondents Anuprita Shukla, Alice Copping and Alex Mugabo for their part in the success of the webinar, which attracted over 60 participants from all over the world.
LITERACY AS SOCIAL PRACTICE conference and BRIAN STREET MEMORIAL LECTURE, 9th December 2019, King's College, London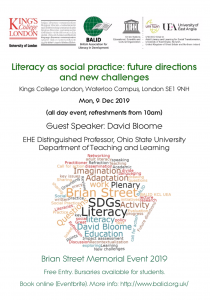 THIS SUCCESSFUL ALL-DAY CONFERENCE included the annual Brian Street Memorial Lecture at King's College, London. Our guest speaker was Professor David Bloome of Ohio State University, and his talk was followed by cameo presentations by current PhD students. As you will see from our report, the day offered a great opportunity for discussion, sharing and networking, and it concluded with calls for action in the context of the SDGs and literacy. To get a flavour of the day, you can also watch this video-recording of David Bloome's presentation, the following Q&A session, and the three afternoon presentations.
BALID 2018-19 AGM, 9th December 2019, King's College, London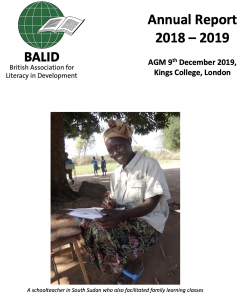 OUR ANNUAL REPORT, which was presented at our AGM, offers great insight into our multifarious activities over the past year – even we on the committee were surprised by the breadth and depth of our work, which is all voluntary.
Our long-standing chair and secretary stood down from their official positions after many years of faithful service, but we are thankful that both will continue on the committee. We are also sad to lose Lorena Sanchez, our dynamic student representative. We have now been joined by five new committee members drawn from a wide spectrum of the 'literacy community', including members from The Philippines, Afghanistan and the UK. You will soon be able to read their profiles on our 'About us' page.
Remember you can join BALID online by following the link.
INFORMAL LITERACY DISCUSSION 36 4th July 2019, UCL Institute of Education
LORENA SANCHEZ TYLER of UCL Institute of Education, London, led this stimulating seminar entitled 'Bilingual Literacy for Life: an indigenous language literacy programme in Mexico'. We hope to be able to share Lorena's PowerPoint in due course.
INFORMAL LITERACY DISCUSSION 35, 24th June 2019, Embassy of the Republic of The Philippines, London, UK
CHRIS MILLORA of the University of East Anglia led a fascinating seminar entitled 'Taking hold' and 'losing grip'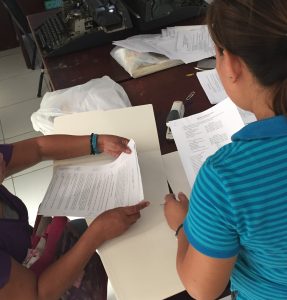 of bureaucratic literacies: Insights from local volunteering in the Philippines. We were the grateful guests of The Embassy of the Philippines in central London. Please check our Facebook page for a glimpse of the occasion! Follow the links to read both Christopher's presentation and news of how a local newspaper in The Philippines reported on the event. 🙂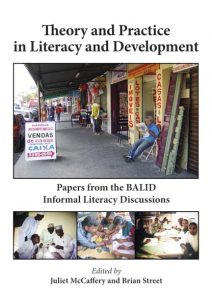 THEORY AND PRACTICE IN LITERACY AND DEVELOPMENT
WE RECENTLY PUBLISHED the second edition of our BALID book, Theory and Practice in Literacy and Development, which is downloadable for free. This is a compilation of articles based on the presentations given by literacy experts at our series of Informal Literacy Discussions in London, UK, from 2011-2015. Edited by Dr Juliet McCaffery and Professor Brian Street, the book offers helpful and varied insights into issues of literacy, focusing mainly on the social practice view of literacy for families and adults. We have a few hard copies available: they cost £15 (plus £2.25 for UK packaging and postage) and can be ordered from Dr Ian Cheffy at ian_cheffy@sil.org
PROFESSOR BRIAN STREET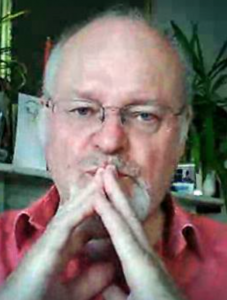 PROFESSOR BRIAN STREET, our long-time President, champion and inspiration, died peacefully on 21 June 2017 after a long battle with cancer. He is very sadly missed, and we have instituted an annual memorial lecture in his honour. Brian will be remembered by all his former students and his professional colleagues for the help, support and encouragement he unfailingly gave them. He will live on through his many publications and his seminal work on developing the theory of literacy as social practice.