BALID's Informal Literacy Discussions (ILDs) have been running since 2011 and are led by literacy practitioners and academics on a range of current 'hot topics' in literacy. Our discussions are lively and interesting, and we offer a warm welcome to everyone – those who are new to the field of literacy as well as those with academic and field experience.
Please see the side-bar for upcoming ILDs.  All are welcome! Attendance is free for BALID members, but non-members are asked to contribute £10 to cover costs (£5 for unwaged and students).
Short summaries can be found below.  Use this search box for specific topics, names etc:
---
INFORMAL LITERACY DISCUSSION 36 4 July 2019, UCL Institute of Education
LORENA SANCHEZ TYLER of UCL Institute of Education, London, led this stimulating seminar entitled 'Bilingual Literacy for Life: an indigenous language literacy programme in Mexico'. We hope to be able to share Lorena's PowerPoint in due course.
---
INFORMAL LITERACY DISCUSSION 35, 24 June 2019, Embassy of the Republic of The Philippines, London, UK
CHRIS MILLORA of the University of East Anglia led a fascinating seminar entitled 'Taking hold' and 'losing grip'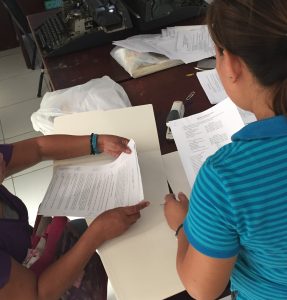 of bureaucratic literacies: Insights from local volunteering in the Philippines. We were the grateful guests of The Embassy of the Philippines in central London. Check our Facebook page for a glimpse of the occasion! Follow the links to read both Christopher's presentation and news of how a local newspaper in The Philippines reported on the event. 🙂
---
INFORMAL LITERACY DISCUSSION 34, 26th March 2019, UCL Institute of Education
In this seminar, Mirza Moqeem Baig of Rural Aid Pakistan led a discussion on Literacy and maternal health in rural Pakistan. More details will be available soon.
---
INFORMAL LITERACY DISCUSSION 33, 7th February 2019, Feed the Minds, London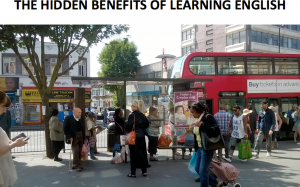 Our first informal Literacy Discussion of 2019 took place on Thursday 7th February, when Sarah Freeman of the University of Sheffield spoke about the Hidden Benefits of Learning English. We were kindly hosted for the event by Feed the Minds at The Foundry, 17 Oval Way, London SE11 5RR.  
---
INFORMAL LITERACY DISCUSSION 32, 11th December 2018, UCL Institute of Education, London
Dr Alastair Daniel of the University of Roehampton led this inspiring seminar about the relationship between oral storytelling and children's literacy. It was entitled Meaning making and meaning shaping. The hyperlink leads to his PowerPoint presentation, which is full of fresh insights, ideas and pointers to research.
---
INFORMAL LITERACY DISCUSSION 31, October 2018
Our BALID chair Dr Katy Newell-Jones led this seminar on The Literacy dimension in Community Development, which involved a passionate discussion about literacy as social practice. Katy drew on participants' experiences in the UK and India, her own experiences in Rwanda, South Sudan and Sierra Leone, plus projects funded by Feed the Minds in Pakistan. Please do take a look at her PowerPoint presentation and read her comprehensive report.
---
LITERACY AS SOCIAL PRACTICE, 10th September 2018, University of Sussex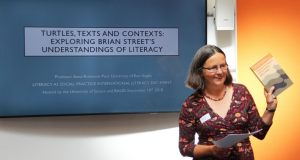 This seminar was organised by the Centre for Teaching and Learning Research at the University of Sussex in collaboration with BALID. It was a wonderful celebration of INTERNATIONAL LITERACY DAY and the seminal work of Professor Brian Street, who impacted the development of New Literacy Studies and its continuing importance to literacy education today. The event brought together academics, researchers and practitioners interested in working with a social practice approach to literacy education, and speakers included Professor Anna Robinson-Pant, UNESCO Chair for Adult Literacy and Learning for Social Transformation at the University of East Anglia, UK.
---
MODELS OF LITERACY LEARNING conference, 17th May 2018, SOAS, London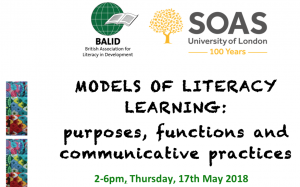 This afternoon conference at SOAS University of London attracted some 30 participants. Our panellists were our host, Professor Friederike Lüpke, and Professor Leketi Makalela of Wits University, South Africa. The main issues centred on adults' and children's literacy learning in multilingual communities in southern Senegal and in South Africa, within both the formal and informal sectors. The presentations were as fascinating as they were challenging, and they engendered much discussion amongst participants. We are really grateful to our speakers, and to SOAS, for making this such a special and informative event. The speakers' presentations can be accessed through the hyperlinks above. Please do read the full report.
---
WORLD LITERACY SUMMIT, March 2018, Oxford
Our BALID symposium at the World Literacy Summit in Oxford in March 2018 was extremely well received. It was entitled 'Tackling the Literacy Challenge through Context-Specific Approaches'. Ian Cheffy spoke about the difference that literacy makes to the lives of adults in several African countries; Katy Newell-Jones spoke about the power of embedding literacy in other realms of life, including health and female genital cutting; and Juliet McCaffery addressed the issue of literacy amongst marginalised communities in the West, including gypsies and travellers.
---
ILD 30:  Orality meets literacy in Manjaku of Guinea-Bissau  Dr Jill Karlik of the University of Leeds led this interesting discussion about the issues that arise when an essentially oral culture begins to embrace literacy. Each medium of communication is a genre with its own conventions, and literacy raises many issues, especially concerning orthography. Jill's Powerpoint explains some of the challenges facing promoters of literacy. (April 2018)

ILDs 2014-2017 – here
ILDs 2011-2013 – here