BALID's Informal Literacy Discussions (ILDs) have been running since 2011 and are led by literacy practitioners and academics on a range of current 'hot topics' in literacy. Our discussions are lively and interesting, and we offer a warm welcome to everyone – those who are new to the field of literacy as well as those with academic and field experience.
Please see the side-bar for upcoming ILDs.  All are welcome! Attendance is free for BALID members, but non-members are asked to contribute £10 to cover costs (£5 for unwaged and students).
Short summaries of our most recent ILDs can be found on our home page, and others can be found below.
---
INFORMAL LITERACY DISCUSSION 36 4 July 2019, UCL Institute of Education
LORENA SANCHEZ TYLER of UCL Institute of Education, London, led this stimulating seminar entitled 'Bilingual Literacy for Life: an indigenous language literacy programme in Mexico'. We hope to be able to share Lorena's PowerPoint in due course.
---
INFORMAL LITERACY DISCUSSION 35, 24 June 2019, Embassy of the Republic of The Philippines, London, UK
CHRIS MILLORA of the University of East Anglia led a fascinating seminar entitled 'Taking hold' and 'losing grip'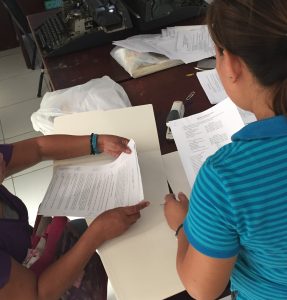 of bureaucratic literacies: Insights from local volunteering in the Philippines. We were the grateful guests of The Embassy of the Philippines in central London. Check our Facebook page for a glimpse of the occasion! Follow the links to read both Christopher's presentation and news of how a local newspaper in The Philippines reported on the event. 🙂
---
INFORMAL LITERACY DISCUSSION 34, 26th March 2019, UCL Institute of Education
In this seminar, Mirza Moqeem Baig of Rural Aid Pakistan led a discussion on Literacy and maternal health in rural Pakistan. More details will be available soon.
---
INFORMAL LITERACY DISCUSSION 33, 7th February 2019, Feed the Minds, London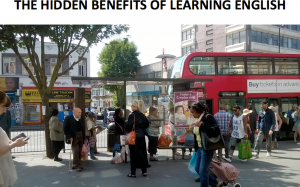 Our first informal Literacy Discussion of 2019 took place on Thursday 7th February, when Sarah Freeman of the University of Sheffield spoke about the Hidden Benefits of Learning English. We were kindly hosted for the event by Feed the Minds at The Foundry, 17 Oval Way, London SE11 5RR.  
---
INFORMAL LITERACY DISCUSSION 32, 11th December 2018, UCL Institute of Education, London
Dr Alastair Daniel of the University of Roehampton led this inspiring seminar about the relationship between oral storytelling and children's literacy. It was entitled Meaning making and meaning shaping. The hyperlink leads to his PowerPoint presentation, which is full of fresh insights, ideas and pointers to research.
---
INFORMAL LITERACY DISCUSSION 31, October 2018
Our BALID chair Dr Katy Newell-Jones led this seminar on The Literacy dimension in Community Development, which involved a passionate discussion about literacy as social practice. Katy drew on participants' experiences in the UK and India, her own experiences in Rwanda, South Sudan and Sierra Leone, plus projects funded by Feed the Minds in Pakistan. Please do take a look at her PowerPoint presentation and read her comprehensive report.
---
LITERACY AS SOCIAL PRACTICE, 10th September 2018, University of Sussex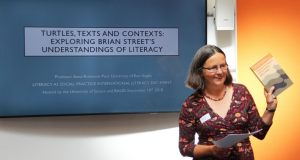 This seminar was organised by the Centre for Teaching and Learning Research at the University of Sussex in collaboration with BALID. It was a wonderful celebration of INTERNATIONAL LITERACY DAY and the seminal work of Professor Brian Street, who impacted the development of New Literacy Studies and its continuing importance to literacy education today. The event brought together academics, researchers and practitioners interested in working with a social practice approach to literacy education, and speakers included Professor Anna Robinson-Pant, UNESCO Chair for Adult Literacy and Learning for Social Transformation at the University of East Anglia, UK.
---
MODELS OF LITERACY LEARNING conference, 17th May 2018, SOAS, London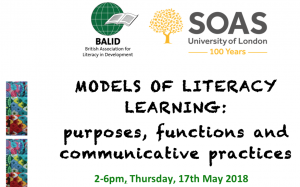 This afternoon conference at SOAS University of London attracted some 30 participants. Our panellists were our host, Professor Friederike Lüpke, and Professor Leketi Makalela of Wits University, South Africa. The main issues centred on adults' and children's literacy learning in multilingual communities in southern Senegal and in South Africa, within both the formal and informal sectors. The presentations were as fascinating as they were challenging, and they engendered much discussion amongst participants. We are really grateful to our speakers, and to SOAS, for making this such a special and informative event. The speakers' presentations can be accessed through the hyperlinks above. Please do read the full report.
---
WORLD LITERACY SUMMIT, March 2018, Oxford
Our BALID symposium at the World Literacy Summit in Oxford in March 2018 was extremely well received. It was entitled 'Tackling the Literacy Challenge through Context-Specific Approaches'. Ian Cheffy spoke about the difference that literacy makes to the lives of adults in several African countries; Katy Newell-Jones spoke about the power of embedding literacy in other realms of life, including health and female genital cutting; and Juliet McCaffery addressed the issue of literacy amongst marginalised communities in the West, including gypsies and travellers.
---
ILD 30:  Orality meets literacy in Manjaku of Guinea-Bissau  Dr Jill Karlik of the University of Leeds led this interesting discussion about the issues that arise when an essentially oral culture begins to embrace literacy. Each medium of communication is a genre with its own conventions, and literacy raises many issues, especially concerning orthography. Jill's Powerpoint explains some of the challenges facing promoters of literacy. (April 2018)
ILD 29 (double bill):
1  Figured Worlds: An Ethnographic Study of Literacy Practices in a Village Community in Malawi  Ahmmardouh Mjaya investigates the everyday literacy experiences and understandings of community members in their lived worlds, including the role of artefacts in literacy practices. He argues that what literacy-mediating artefacts allow the community members to become is more important than what they actually do. 

(December 2017)
2 Reading Aloud in Britain Today (RABIT)

This fascinating seminar was jointly led  by Sam Duncan of UCL. Her research focuses on ways in which reading aloud in a widely-unacknowledged range of contexts must be considered an 

aspect

 of literacy development. (December 2017)  
ILD 28:  Helping hunter-gatherers to become 'paper people': Literacy challenges among the San in Namibia  Candi Miller of the University of Wolverhampton had us all enthralled as she told us about her work with the San, facilitating literacy activities and the creation of a radio soap, which empowers and affirms their culture rather than threatening it.  A summary of the seminar discussion will follow in due course. (November 2017)
LD 27: Learner-generated materials, collective classroom knowledge: Research with adult literacy facilitators in Guatemala  In this fascinating seminar, Marta Paluch of the University of Sussex shared her experience of working with adult literacy facilitators, and the process of collective construction of knowledge. Marta also included a very helpful PowerPoint presentation to illustrate the discussion. (June 2017)
ILD 26: Literacy in Northern Nigeria  Mary Anderson led this discussion, basing her input on her experience training teachers on the DfID-funded Teacher Development Programme. Areas of concern include the literacy levels of teachers, and the tensions between the Islamic and western educational systems. The following reflections focussed on the role of the electronic media, and whether more use could be made of locally-produced materials rather than books published by commercial companies. Some significant facts, figures and references about Northern Nigeria can be found here. (April 2017)
ILD 25: Training Literacy Facilitators in Central Tanzania  Margaret Beckett of SIL led this discussion, which focussed on the literacy programme she is involved with in rural Tanzania. People there speak many languages, and some may also have a knowledge of Swahili. As a sub-title, Margaret used the memorable phrase 'Culture eats strategy for breakfast', thus effectively emphasising how important it is to understand and appreciate local voices and local values.  (January 2017)
ILD 24: Professional Communication and Client Care: Literacy implications for vocational and professional adult education  This was the title of Tara Furlong's paper for a discussion about the higher levels of literacy needed for professional communication. (November 2016)
ILD 23: Understanding Literacy: what theoretical approach: what theoretical approaches can help make literacy teaching and learning more effective?  This discussion was led by Dr Ian Cheffy of SIL International, and was accompanied by a very helpful spidergram that showed the linkages between adult literacy and the theory of adult learning. (May 2016)
ILD 22: Literacy and female infanticide was led by Dr Priti Chopra of the University of Greenwich, UK. This was an interesting and moving seminar about how literacy may empower communities and challenge attitudes to female infanticide in Bihar, northern India. (November 2015)
ILD 21: Transformational Change was led by Dr Ian Cheffy of SIL. This was a very interesting presentation about the change in identity, confidence, and community participation that women demonstrate when they become literate. (October 2015) 
ILD 20: Adult Literacy: Policies and Structures was led by Professor Lalage Bown OBE, Emeritus Professor of Adult and Continuing Education at Glasgow University. This stirring discussion, kindly hosted by Redcliffe College in Gloucester, UK,  challenged us to consider how literacy practitioners and academics need to be politically literate in order to protect and promote the literacy agenda amongst governments and aid agencies. (May 2015)
ILD 19: Literacy in Afghanistan was led by Professor Alan Rogers (University of East Anglia). It provided the basis for a stimulating discussion of issues arising from his work with USAID and UNESCO. More details will be available in due course. (March 2015)
ILD 18: McCaffery – Is Education for All? was led by Dr Juliet McCaffery. Her presentation was inspired by observations of the tension between many indigenous and nomadic people's lack of interest in literacy and formal education, and the education provided by governments in both the developed and developing world. (January 2015)
She went on to give us insights into Gypsy and Traveller culture and attitudes toward literacy in the UK. Here, there is a pronounced lack of educational attainment by these minorities, which is perceived as a problem by local and national government. However, this correlates with a lack of understanding of the groups' land needs on the one hand, and fear of loss of their culture on the part of the Gypsies and Travellers.
ILD 17: From Orthography to Literacy Practice was led by Margaret Beckett of SIL. This was a lively seminar that gave us a glimpse of the community transformation that literacy can bring: a sense of pride in local language and culture, plus empowerment and connection to a wider world (including Facebook!). Such steps forward are tempered by a range of problems, from the traditional dominance of rote learning to issues of orthography and the medium of education in schools. (December 2014)
An ILD on the subject of Adult Literacy in policies and structures was to have been led by Professor Lalage Bown, whose unfortunate ill-health meant that her ILD had to be postponed. We nevertheless had an interesting and useful discussion. (September 2014)
ILD 16: Incorporating Literacy into Community Development Projects led by Dr Katy-Newell-Jones of Feed the Minds. (April 2014)
ILD 15 – Literacy in and out of school in a Brazilian bairro led by Professor Maria Lucia Castanheira of the University of Minas Gerais, Brazil, and Professor Brian Street, President of BALID. (February 2014)
ILD 14:  International Advocacy on Literacy and Development: Challenges and Opportunities led by David Archer of Action Aid. (January 2014)

ILD 13:  Literacy and Learning for Development: reflections o policy-focused research, led by Professor Anna Robinson-Pant of the University of East Anglia. (November 2013)
ILD 12: Community Transformation through Literacy and Numeracy Education, led by Nicola Lawrence of the Mothers' Union. (October 2013)
ILD 11: Books Change Lives, led by Alison Hubert and Jill Haynes of Book Aid International.  Click here for a flyer which gives an introduction to the work of Book Aid International. (September 2013)
ILD 10 Numeracy – Greater impact on people's lives than literacy? led by Dave Baker. Dave also shared his forthcoming publication Using sand to count their number: developing teachers' cultural and social sensitivities. (July 2013)
ILD 9: Empowering non-literate rural women in Pakistan led by Mirza Moqeem Baid, Executive Director of Pakistan's National Rural Development Programme (NRDP). Click here for the report.  (June 2013)
ILD 8: The LETTER programme, led by Professor Alan Rogers and Professor Brian Street. Click here for the report. (May 2013)
ILD 7: East Timor 1974/5: Decolonisation, a nation-in-waiting and a Freire-inspired adult literacy campaign led by Estêvão Cabral, University of Tilburg and Marilyn Martin-Jones, University of Birmingham.  See summary, full paper and powerpoint presentation. (February 2013)
ILD 6: Literacy Publishing  led by Dr Mary Anderson. Click here for the report. (November 2012)
ILD 5: ILD 5 Hidden Literacies led by Dr. Rafat Nabi. Click here for Rafat's profile and a summary of the session. Rafat's powerpoint presentation included powerful examples of the hidden literacies of individuals and the ways they extended their literacy and numeracy activities. Dr Rafat also presented on Women in Literacy at the Institute of Education in London in December 2012. Click here for details. (October 2012)
ILD 4: Literacy and health led by Dr. Kirsten McCaffery, Associate Professor at the School of Public Health, Faculty of Medicine, University of Sydney. A summary of the session is available here along with some definitions of health literacy. Dr. McCaffery has recently co-authored a literature review of health literacy  for the NSW, Clinical Excellence Commission, Australia. (July 2012)
ILD 3: Schooling and Family Literacy: The overall theme of this discussion was schooling and family literacy: the role of parents in supporting mother tongue-based multi-lingual education programmes. This was led by three specialists from the SIL literacy team: Barbara Graham (SIL mother-tongue education specialist, Kenya), Karla Smith (senior literacy and education consultant, Malaysia) and Catherine Young (senior literacy and education consultant, The Philippines). Catherine's paper is entitled Community Involvement in Planning and Implementing Local Education Programmes. (May 2012)
ILD 2: Transferable Literacies: to what extent do literacy practices taught as social practices result in transferable literacy skills? led by Dr Ian Cheffy of SIL (December 2011).
ILD 1: Literacy – Unfashionable and Unfundable: led by Dr Katy Newell-Jones of Feed the Minds, UK. Click here for a summary of the discussion. (October 2011)