'LETTER' stands for Learning Empowerment through Training in Ethnographic Research. The aim of LETTER  is to help facilitators and trainers in Adult Literacy to gain first-hand experience of ethnographic-style approaches to existing local literacy and numeracy practices in development programmes, and thus to support and enhance local teaching and learning.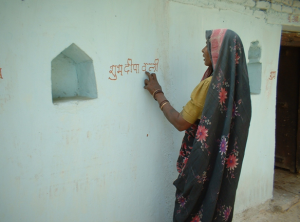 Happy Divali! A woman reading text on a wall in Mehroni, India
LETTER projects are usually planned to consist of a series of three one-week training workshops usually about three months apart, with two periods of field work in between. LETTER is not presented as an exclusive alternative to existing adult literacy learning programmes but as an additional resource. See this summary for more information about LETTER. Since October 2012 LETTER has been hosted by BALID, with the on-going support of Prof. Alan Rogers and Prof. Brian Street. The following publications result from specific LETTER projects.  
Hidden Literacies: ethnographic studies of literacy and numeracy practices in Pakistan by Rafat Nabi, Alan Roger and Brian Street is available here.
Everyday Literacies in Africa: ethnographic studies of literacy and numeracy practices in Ethiopia, edited by Alemayehu Hailu Gebre (Ethiopia), George Openjuru (Uganda), Alan Rogers (UK) and Brian Street (UK) is available to download here.
Publications associated with LETTER
Gebre, A, Openjuru, G, Rogers, A and Street, B (2009): Everyday Literacies in Africa: Ethnographic Studies of Literacy and Numeracy Practices in Ethiopia Addis Ababa: Fountain Publishers. (See especially Ch.1 'Ethnographic approaches to literacy and numeracy', pp. 1-38.)
Nirantar (2007): Exploring the Everyday: Ethnographic Approaches to Literacy and Numeracy. Mumbai: Nirantar and ASPBAE. See also www.nirantar.org
Openjuru, G., Baker, D., Rogers, A. & Street, B. (Eds.) (2016) Exploring Literacy and Numeracy Practices: Ethnographic Case Studies from Uganda, Uppingham Press. This is downloadable from:  http://www.uppinghamseminars.co.uk/Exploring%20Adult%20Literacy.pdf
Street, B, Baker, D, Rogers, A (2006): 'Adult teachers as researchers: ethnographic approaches to numeracy and literacy as social practices in South Asia.' Convergence, vol XXXIX (1) pp. 31-44
Nabi, R, Rogers, A and Street, B (2009): Hidden literacies: ethnographic case studies of literacy and numeracy from Pakistan. Bury St Edmunds (UK): Uppingham Press
Rogers, A and Street, B (2011): 'Teaching Literacy: Perspectives from both Developing and Western Contexts' in Viden om Læsning (Knowledge About Reading), special issue, Jorden læser (Literacy Around the World), No. 10, Sept 2011, pp. 38-47. Copenhagen:  Nationalt VidenCenter for Laesning.
Rogers, A and Street, B (2012): Literacy and Development. Leicester (UK): NIACE. (See especially Ch. 8 Literacy as Social Practice: using ethnographic perspectives in programme development.)
LETTER works closely with Uppingham Seminars. An Uppingham Seminar was held from 7-9 April 2016 under the title 'The sustainable Eduation Development Goals and Adult Learning Programmes: why have adults largely been excluded in the past and are there signs of a change?' More information about the seminar can be gained by emailing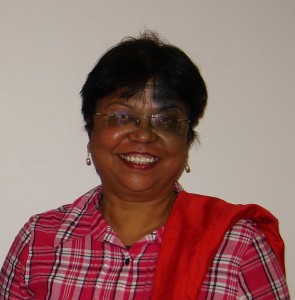 Dr. Rafat Nabi, who works with existing local literacy practices in Pakistan and Afghanistan was in London in October 2012 and led one of the BALID Informal Literacy Discussions. Click here for a summary of her presentation and the ensuing discussion.
Prof. Rogers and Prof Street have worked for some time with Dr L S Saraswathi, who has dedicated decades of her life to working on literacy issues in the context of rural development in south India. The following papers relating to her work are available by clicking on their titles in this list: